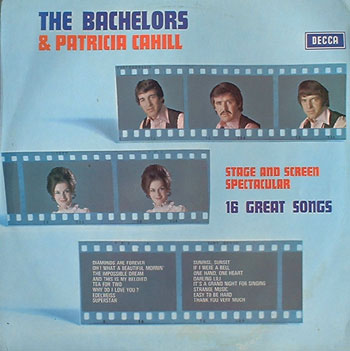 Diamonds Are Forever
Oh! What A Beautiful Mornin'
The Impossible Dream
And This Is My Beloved
Tea For Two
Why Do I Love You?
Edelweiss
Superstar
Sunrise, Sunset
If I Were A Bell
One Hand, One Heart
Darling Lili
It's A Grand Night For Singing
Strange Music
Easy To Be Hard
Thank You Very Much
This duet with the Bachelors was at the end of a Summer Season we did together in Scarborough in Great Britain. A very glamorous show with plenty of glitz. The boys were from Dublin and we had known each other when they had been in Dublin.
We put together some lovely songs and went to London for the recording when the show closed. The orchestrations and the blending of the voices I think was very effective, and I know the boys were proud of this album as was I.
Thank you Declan, John, and Con.