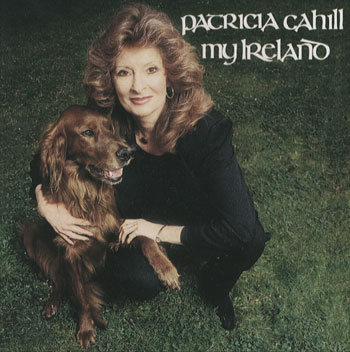 A Little Bit Of Heaven
Too Ra Loo Ra Loo Ral
Molly Malone
Glocca Morra
Danny Boy
Galway Bay
Macushla
Paddy McGinty's Goat
She Moved Through The Fair
How Can You Buy Killarney?
Another chance to make an album of Irish songs with Andy O'Callaghan doing the arrangements and the technical side of the recordings. I loved singing these songs, some of which I had never sung in public but I knew were loved by so many people. She moved through the Fair we treated in an entirely different way for me.
We used sound effects like rolling thunder and the sounds of water and birds which to me captured that Irish atmosphere which was eerie and which was wonderful for this particular traditional song. Instead of waiting for a cue from a violin or piano I had to listen to the sound of a bird or a thunderclap, challenging but thoroughly enjoyable and rewarding. Thank you Andy for both these albums.
What a joy to work with someone so full of talent and love for music. Many people have asked me If the dog on the cover was mine unfortunately no. I do have two Yorkshire Terriers but they weren't quite what we wanted I didn't tell them that !!!! The Irish setter was loaned to me for an afternoon.
He was a perfect dog, absolutely no trouble and posed for the album as If he did it every day.