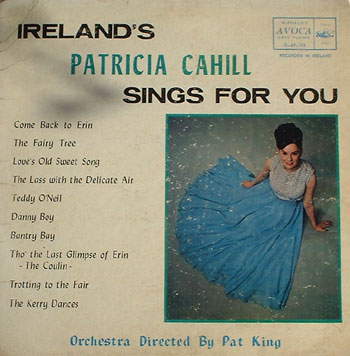 Come Back To Erin
The Fairy Tree
Love's Old Sweet Song
The Lass With The Delicate Air
Teddy O'Neill
Danny Boy
Bantry Bay
Tho' The Last Glimpse Of Erin – The Coulin
Trotting To The Fair
The Kerry Dances
My first album !
I was working in the Olympia Theatre in Dublin when Willie Brady who had many albums for the Avoca label asked me if I would like to make an album of Irish songs. Imagine my excitement.
The recordings were done in a small school room in a suburb of Dublin with a small group of very talented Irish musicians conducted by Pat King.
I remember that school room so vividly and the thrill of recording songs that I loved to sing.