Songs From The RTE Series Track List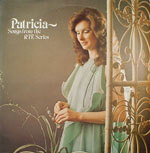 Music
Evergreen
Laughter In The Rain
Stephen/I Dream Of Jeannie
At Seventeen
Don't Cry For Me Argentina
Wedding Song
Liverpool Lullaby
If We Only Had Love
Disney Girls
I Write The Songs
Music
I recorded this album as a result of a Television series "Patricia" which I had made for RTE Ireland's National Television Station. It was a six week's series with guests which had not appeared a great deal on television if at all and I had some really talented people who helped make the series such a success.
The exception to these guests was the appearance of my "special" fellow performer Maureen Potter. We performed a sequence called "We're a couple of Swells" Singing the famous song, dressed as tramps! And doing a little dance to boot. As I was a great admirer of Maureen and had worked with her on other duets together in the Gaiety Theatre Dublin I was very proud she joined me for this series.
The album was the very first album that RTE had produced and released, a real compliment and one I appreciated very much. It was produced by John McColgan who also produced the Television Series for me. John later was responsible along with his wife for the famous and fabulous"Riverdance".